Following a strong Q1 & Q2 where our hotels consistently ranked in the top 8% in overall RevPAR in Texas, Pathfinder Hospitality is excited to announce that 3 of our hotels have ranked in the top 8% in overall RevPAR throughout Texas. These outstanding rankings are a result of how the company adjusted during one of the hardest times our industry as a whole has ever faced.
Out of 6,209 Texas hotels reporting on RevPar, our Residence Inn Austin Southwest ranked in the top 2% at #141. Our Staybridge Suites Humble/Generation Park ranked in the top 3 % at #181 and our Staybridge Suites Webster/Clear Lake ranked in the top 8% at #470.
In addition, the Residence Inn Austin Southwest is the 3rd ranked Residence Inn for the brand in all of Texas with $121.55 RevPar. Staybridge Suites Humble/Generation Park was the top performing Staybridge Suites for the brand in all of Texas with $115.28 revPAR.
To achieve these outstanding rankings, Pathfinder Hospitality emphasized their mission, vision, and core values and encouraged every team across the board to provide unrivaled hospitality in their respective markets. Where a lot of hotels are ditching things like breakfast and the socials, Pathfinder teams have found a way to not only do it, but to do it better and in a way that is safe and delicious for our guests. Teams are also encouraged to provide monthly activities, National holiday celebrations, and out-of-the-box ways to make our guests feel like when they're in our hotels, they're home.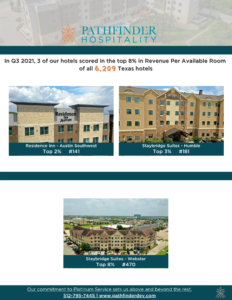 Source: Hotel Brand Report – Source Strategies
__________________________________________________
About us: Pathfinder Hospitality develops hotels and also manages hotels for third-party investors by leveraging its talented workforce, relationships with major hotel brands, and buying power with major hospitality-focused vendors.
"Above and Beyond" captures the sheer essence of what Pathfinder Hospitality is all about. It is reflected in the hotels we develop and manage, in the memorable experiences we create for our guests through our commitment to Platinum Service, and in the extent of investment and support we provide to our properties to continue to stand out from our competitors.
Our mission: To provide best in class hospitality by delivering memorable experiences, enriching the lives of others, investing in our teams, and creating high-value growth for all stakeholders.
Our vision: To expand the reach of our unrivaled hospitality.
Follow us on Social Media: 
Facebook: https://www.facebook.com/PathfinderHospitality
Instagram: https://www.instagram.com/PathfinderHospitality
LinkedIn: https://www.linkedin.com/company/PathfinderHospitality