We often get asked, "Where is the best place to go for brunch around here?" When a new guest checks into our Residence Inn by Marriott in Southwest Austin or our Holiday Inn Express & Suites – Arboretum Austin, we see that as a prime opportunity to deliver platinum service by giving them recommendations for all their travel needs. Whether someone walks through those automatic doors for business or pleasure, they all need to eat and they are all looking for places to explore. Even in the midst of COVID-19, there are still so many things to experience.
Our Residence Inn by Marriott is in the heart of southwest Austin and anyone that googles "Austin" is immediately directed to the world-famous South Congress area. Our team has compiled a list of our favorite spots so you don't have to waste a single minute doing a search that overwhelms you with options. 
Breakfast / Brunch
Let's talk about breakfast or brunch! We like to start our day at Magnolia Cafe. Magnolia cafe has been in this prime location for 41 YEARS. Yes, you read that right. This gem of a spot is the perfect way to start your day at South Congress because it is located at the top of the street and the food is out of this world. Whether you're craving pancakes or breakfast tacos, Magnolia cafe has it all. Make sure you check them out on social media!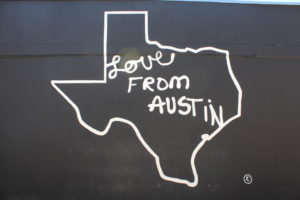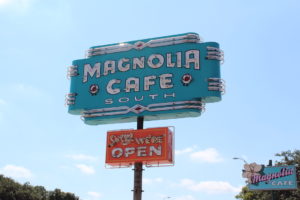 If you're looking for something quick and easy, there is also a Torchy's Tacos! Austin is known for its breakfast taco culture, and Torchy's is king when it comes to delicious breakfast tacos. And don't even get us started on their queso options and sauces. Talk about a flavor party!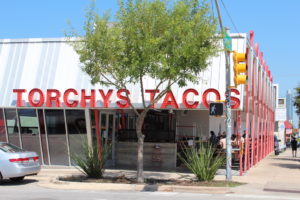 Shopping
Now that you're well and stuffed from breakfast, it's time to get some steps in and visit the unique shops that this area has to offer. It is rare that people come to Austin and don't have line dancing on their itinerary. Whether you're hitting up Broken Spoke or any other musical spot in town, you shouldn't go without getting your boots! Allen's Boots offers hundreds of different styles, so you're guaranteed to find that epic pair that you'll wear for the rest of your life. BONUS! If you're hosting a bachelorette party at our hotel, we can hook you and your party up with a boot party! Ask our front desk agent more about this when you book your stay!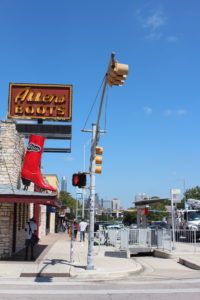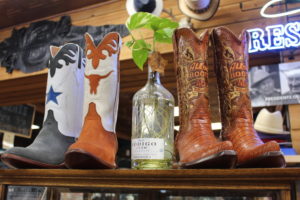 If by some chance boots aren't your thing, South Congress houses one of eight of Tom's stores in the US just across the street where you can grab some caffeine and shop their many amazing (and comfortable) styles of shoes! We love Tom's because they not only support your feet but for every 3$ they make, they give 1$ away. This charitable piece makes this an extra special stop on your South Congress day! Plus, check out this adorable Austin-themed one-of-a-kind Tom's!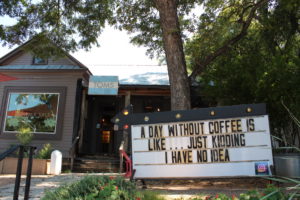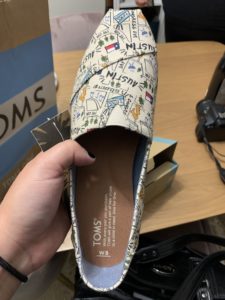 No outfit is complete without jewelry! And what better place to stop than the Kendra Scott Flagship store? Kendra Scott is a pillar of the Austin community and offers some of the most beautiful jewelry you could ever imagine. From dainty, everyday pieces to statement pieces that will jazz up any outfit, she has something for everyone. This shop even serves refreshments if you're finding you need some coffee or a cocktail!
This area is saturated with other types of amazing mom and pop shops that you can't find anywhere else in the world. Prima Dora, Parts & Labour, and Triple Z Threads are just a few examples of some of the places you can find clothes, trinkets, vinyls, books, and everything in between.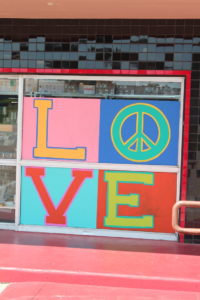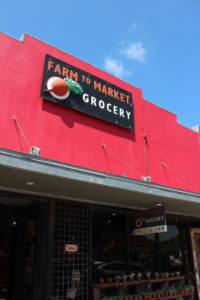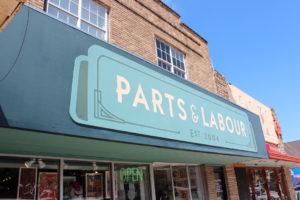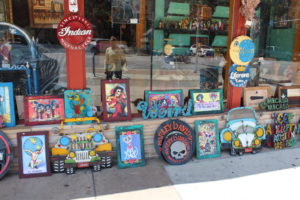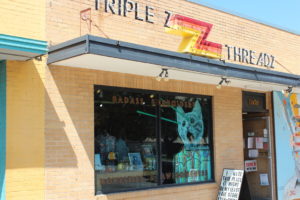 Lunch / Happy Hour / Dinner
In case you didn't wake up early enough for breakfast, or just love to eat and drink like us, it's time to talk about the other amazing spots you can indulge in. Our first highlighted lunch spot is a no-brainer. South Congress Cafe is fantastic whether you're a bar person, indoor seating person, or a patio person. Happy Hour is from 3 pm-6 pm Monday-Friday and the food is amazing.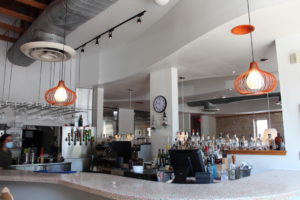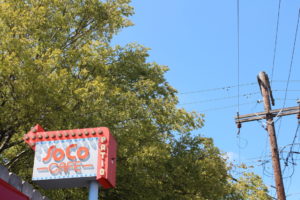 We can't talk about happy hour and delicious food without mentioning Cafe No Se. The libations and the food options are off the charts because they really focus on a fresh approach when it comes to their cuisine. They have a full bar, so the drink options are endless and we highly encourage you to order dessert!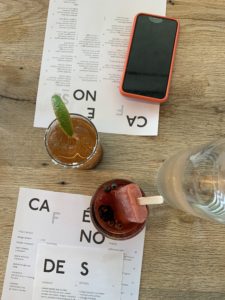 Dessert
If you ask us, dessert can be eaten at ANY time of the day, and the perfect place to indulge is Amy's Ice Creams. For us, it simply depends on the mood, but the choices between ice cream, sorbet, and toppings are truly endless and extremely delicious. Plus, once you've walked up and down this amazing street, you've totally earned it!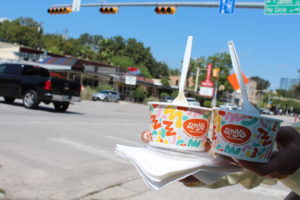 So, if you're visiting Austin for the first time or it's your 10th time, South Congress is one of the best places to visit and experience. When you book your stay, make sure you ask our team their favorite places to try and let us know who won in your travel book! 
Book your stay with us HERE!