When booking a hotel, is breakfast one of the special features you look for? Do you get frustrated when you feel like a hotel skimps out on those little details that make a huge difference? While we know that safety and cleanliness are one of the most important focus areas to come out of the COVID-19 pandemic and breakfast and evening socials were the first thing to go when things got real, Pathfinder Hospitality has been committed to serving our guests a stellar breakfast as soon and as safely as possible.
When the pandemic hit, hot breakfast, breakfast buffets, and gourmet selections were cut from all the hotel operations across the world. Some hotels went as far as stopping simple coffee service and let's face it, who can start their day without their morning cup of Joe? Since restrictions have been lifting and some hotels are trying to bring things back a little at a time, Pathfinder Hospitality felt strong about getting our food menu items back to where they need to be so that our guests feel satisfied when leaving any of our kitchens. Unfortunately, some hotels have noticed that cutting breakfast, evening social, and even coffee have cut their costs significantly, and who can blame them? However, we know building an incredible customer experience is still crucial as travel picks back up. Platinum Service is the name of our game and quality matters. According to a Lavidge.com study in 2019, "More than three-fourths (77%) of study respondents rated verbiage about a complimentary morning meal as their favorite phrase when considering booking a room in a hotel or resort."
Want to know a little more about our portfolio food options? Let's taco 'bout it!
Residence Inn Austin Southwest: Currently, our extended-stay Residence Inn by Marriott in southwest Austin is serving up the works when it comes to breakfast and our evening social is back with a bang! Our team is fully masked up and serving hot breakfast with safety protocols in our kitchen. Breakfast items vary, but you can always find delicious scrambled eggs, different types of bacon and sausages, pancakes, and even waffles. Still into that continental breakfast? We also have an incredible assortment of continental options that are safely wrapped and divided out so that you know your food is clean and ready to go! Follow us on Facebook & Instagram to see our breakfast and socials live as our evening social food items are always different. What isn't different? The wine, beer, and seltzers are always on us Monday – Friday from 5:30-7:30 pm.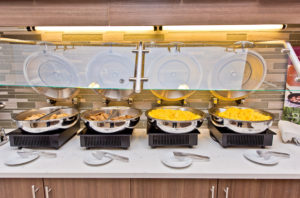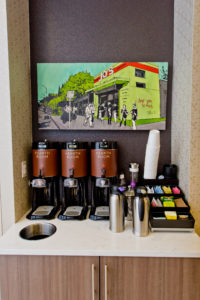 Staybridge Suites – Generation Park/Humble: If you're looking for a place to stay in the Houston / Humble area, not many people do it better than our extended-stay hotel in Humble. Our Staybridge Suites have been serving up the goods for a couple of months now and that is one of the highlights that keeps our guests happy and loyal. Breakfast is always fresh and served by a team member who is wearing a mask and a smile under the mask. With similar options to our Residence Inn in Austin, you never know what they might be serving outside of breakfast! Ask one of our team members about the specials going on weekly and follow us on Facebook & Instagram to get the inside scoop!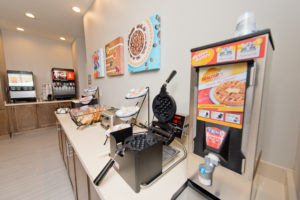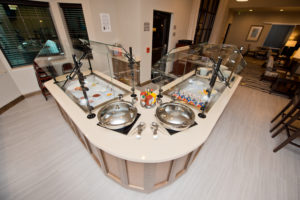 Staybridge Suites – Nasa/Clear Lake: Trying to book the perfect extended-stay hotel in the Houston / Webster area? Look no further than our Staybridge Suites at Nasa/Clear Lake! Trust us when we say, you won't want to go anywhere else for breakfast and you will want to drop by our evening socials any chance you have. We've even started weaving fun and safe Sunday brunches! Our breakfast menu is always changing and we've kicked it up a notch with things like breakfast burritos and tacos, chicken and waffles, and much more. Stop by the front desk and ask for the menu! Pro tip? Tipsy Tuesday is a thing and we take it very seriously. Follow us on Facebook & Instagram and talk to our team when you check in, as they have all the updated info on what we are serving up and we can't wait to serve you!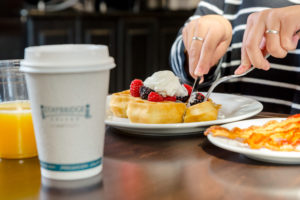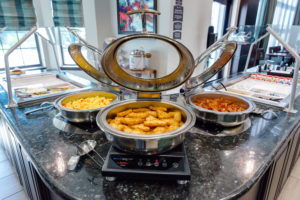 Hampton Inn & Suites Port Arthur: Our incredible Hilton property down in the unique town of Port Arthur, TX has also kicked breakfast up quite a few notches since the pandemic. While you'll definitely find the usual options that satisfy every craving, we also offer a variety of different items. Sometimes we serve individual smoothies, waffles, omelets, various proteins, biscuits & gravy, and sometimes you might find something out of the box! One of our favorite unique touches? In our lobby, you will always find special water options that will surprise your taste buds! To take it one step further? There is always an option with booze! Who doesn't love that? Follow us on Facebook & Instagram to see the latest and ask a team member today to ask what we are serving up this week!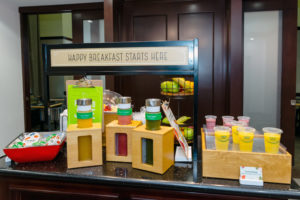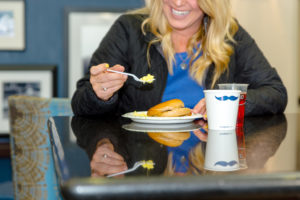 So…if a high-quality complimentary breakfast is one of your top must-haves when booking a hotel and you're looking to travel to Austin, Houston, or Port Arthur, look no further. According to 4hoteliers.com in 2019, Hotels.com did a survey and they found that after they "surveyed 1,000 global jet-setters to find out which of those luxurious amenities matter the most to hotel guests, the results were quite surprising. As it turns out, good food, specifically complimentary breakfast, is the No. 1 perk travelers expect from a hotel." Many hotels have not brought back their breakfast options. Many are still serving pre-made paper bags with expired products that sometimes end up going to waste. Some may not bring breakfast at all, and because of that and because of the importance that this small, but mighty amenity means to travelers, we promise to not only do it well but do it better. We can't wait to serve you!
Follow Pathfinder Hospitality on Facebook, Instagram, and LinkedIn today!