We've all heard how much the hospitality industry is struggling with labor models and employee retention, but we sometimes forget to stop to think about new ways to engage our team members and guests. The same old "strategies" don't work anymore because our world has changed. When Gary Ross Dahl invented the pet rock in the 1970s at a bar while talking with friends, he had no idea how much it would catch on or how much it would make him. "Your PET ROCK will be a devoted friend and companion for many years to come," stated Dahl's booklet. Dahl also said in an interview in the Oakland Tribune, "I packaged a sense of humor for a very bored public." This novel idea created a movement and as hospitality trailblazers, we want our teams to feel empowered to do the same.
I bet you're wondering why we are talking about pet rocks. As part of our Platinum service efforts, each of our hotels is responsible for a monthly activity calendar that celebrates our guests and team members! Our Pathfinder Hospitality portfolio is made up of a mix of select-service and extended-stay hotels, so we encourage out-of-the-box ways to connect with our guests. Our Staybridge Suites team in Humble, Texas made up of Christina Berglan (Who goes by "Chris") and Brittany Tillman came up with an idea that took over across our teams at all of our hotels in Austin and Houston. In an effort to bring joy and humor to our guests, each hotel now has a pet rock painting station and an area where guests can take a pet rock to keep as a companion forever. The rocks flew out of the lobby as they were made and this simple act highlighted connection, humor, and companionship for those that may not be able to have a live pet while they travel. I felt inspired to highlight this phenomenon that took off and went right to the source on how this idea came about.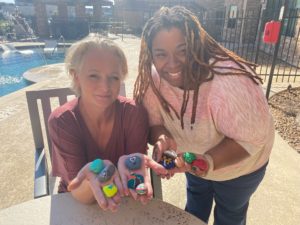 Mel: What inspired you guys to start the pet rock movement?
Brittany & Chris: The pet rock movement was inspired by the national holiday calendar. Humble has had a long standing tradition of Night Auditors using their creativity to think up and illustrate fun for our guests. 
Mel: How did you go about making it happen?
Brittany & Chris: Ha! Over wine snacks at Brittany's apartment – we created our first set of rocks. Brittany joked that we should keep the rocks as a parting gift so the guests can take a piece of us with them (the rocks come from the property we've even had guests go outside to pick their own rock). The joke stuck and became reality when the guest raved about them.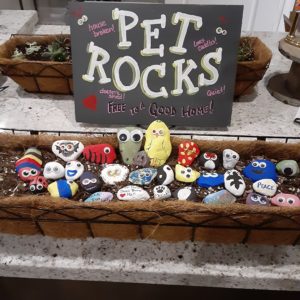 Mel: What is the response you've seen from your team members?
Brittany & Chris:We created a decompress corner/rock painting station in the back where team members could take breaks throughout their shifts. Which has made a positive impact on the agents. 
Chris: "The corner allows us to relax and blow of steam after dealing with difficult or challenging situations its therapeutic and rewarding the smiles the guests have leaving it makes us so happy"
Britt: "They get to bond with the guests, learn them and create something special for them to take home. These rocks are conversation pieces and they foster a closeness that we haven't been able to have with the guests since Covid. A tangible hug "
Mel: What is the response from guests? 
Brittany & Chris: The guests love them. They often request certain things on the rocks for us to make for them before checkout. And not to mention we sign the rocks with our name just in case they forget which Staybridge suites they stayed at. 
Mel: How has this inspired you to think creatively and provide more platinum service? 
Brittany & Chris: At Humble we pride ourselves and strive to treat the guests like family. Our platinum service planning is centered around just making our family happy. Every month we challenge ourselves to come up with these  magical touches. Creating memories no matter how small because these little pet rocks contribute to those memories make huge impacts.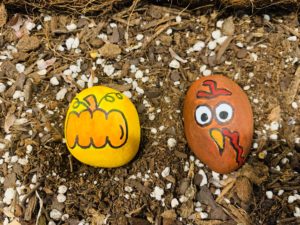 We all know pets bring joy to anyone that gets to experience them, but what about those with allergies or are traveling so much that they can't have a live pet? We found the solution! Now, pet rock painting stations can be found at our Residence Inn Austin Southwest, Best Western Plus & Suites Pflugerville, Holiday Inn Express & Suites Austin NW Arboretum Area, and our Staybridge Suites NASA/Clear Lake. These stations that live in our break rooms and back offices are equipped with all the creative tools to make pet rocks that showcase their personalities and it gives them time to take a breathe and exercise those creative muscles they sometimes don't get to use in their jobs. According to Cheryl Viola, "3 Key Benefits of fostering creativity in the workplace include:
Creativity Builds Better Teamwork

Creativity inspires employees to work with each other. The creative process encourages collaboration. Businesses need to encourage the mindset of continuous learning encouraging employees to seek new information, knowledge and new ways to do things.

Many unique ideas come from just one person but they are molded by a team to become fully formed.

Creativity Improves the Ability to Attract and Retain Employees

When creativity is encouraged employees are more content with their jobs and are committed to remaining loyal to the company.

Creativity Increases Problem-Solving

With the ability to think creatively and outside of the box, employees are more likely to come up with unique and innovative solutions to obstacles they encounter. This eagerness to solve problems can lead to new ways to accomplish tasks and adds to a more efficiently run business."
In the face of the labor shortage the industry is facing as a whole, we want to foster a workplace where creative ideas are not just heard, but put into practice. As leaders in the hospitality industry, we see these results in retention when you create a safe place for ideas to flow. So, trust your General Managers and employees to be fun and play at work, give them autonomy to go out and get the tools they need to have these places in the back to paint and take breaks, and encourage all team members to think beyond their "roles" and have bonding moments that create better synergy.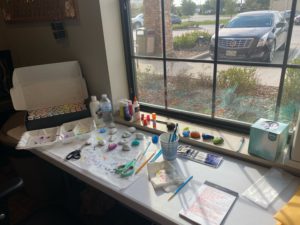 Written by Mel Miller, Director of Marketing & Business Development at Pathfinder Hospitality
—
Pathfinder Hospitality (Previously Pathfinder Development) was founded in 2005 and currently manages 5 hotels in Texas with a 6th in the works. These hotels include Residence Inn by Marriott in Southwest Austin, Holiday Inn Express & Suites in Austin Arboretum, Staybridge Suites in Humble/Houston, Staybridge Suites in NASA/Clearlake, Best Western Plus Pflugerville. Our 6th incoming hotel will be the Aloft in Southwest Austin.
Follow us on Social Media: 
Facebook: https://www.facebook.com/PathfinderHospitality
Instagram: https://www.instagram.com/pathfinderHospitality
LinkedIn: https://www.linkedin.com/company/pathfinderHospitality