Here at Pathfinder Development, we believe that our teams are filled with incredible talent. Since one of our main specialties as a company is Talent Development, we are constantly looking for new ways to grow and train our team members. Over the years of nurturing our Talent Development pillar, we've created a various number of committees that staff members across every single hotel are invited to participate in based on their skills and interests. So, when you sign a contract of employment with Pathfinder, no matter what your "job title" might be, there is always room for you on one of our many committees. 
Committee participation is completely optional. However, would it surprise you to find out that almost all of our employees are part of at least one committee? This is because we strive to connect employees across all hotels so we feel united in upholding the Pathfinder Development Mission and Vision.
Culture Committee
Led by Mel Miller (Director, Marketing & Business Development) & Shawnice Walker (General Manager), the Culture Committee is exactly what it sounds like. Pathfinder Development is known for its inclusive and amazing culture, and this committee is responsible for leading the charge.
Our culture is based on the FISH! Philosophy, and the 4 basic principles are Be There, Make Their Day, Play, and Choose Your Attitude. The members of this committee are in charge of leading company-wide FISH trainings and our employees find it not only valuable but engaging. 
In addition to upholding the FISH philosophy, this committee takes the lead on birthday celebrations, anniversary celebrations, employee recognition, monthly Lunch N' Learns, and our diversity and inclusion efforts.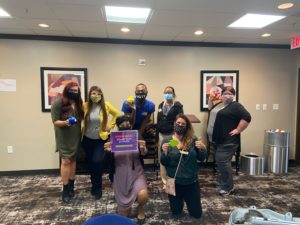 Social Media Committee
Led by Mel Miller (Director, Marketing & Business Development), the Social Media Committee is key when it comes to company and hotel brand awareness. These team members take on the challenging responsibility of scheduling monthly social media calendars on their respective hotel social pages along with devising game plans when it comes to event coverage and photography.
Every month, each hotel has an activity calendar and the social media squad is in charge of making sure the events have social media support. Our company has a unique approach to Platinum Service, and this squad is responsible for bringing that approach to life on our social media pages.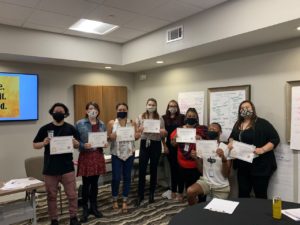 Comité Sin Barreras (Committee Without Barriers)
Led by David Rojas (Vice President), the Comité Sin Barreras (The Committee Without Barriers) is our first-ever committee dedicated to our Spanish-speaking employees! This group has a passion to be triumphant in anything they aim to reach. Pathfinder has given them a voice and an opportunity for them to express themselves in a way they thought they never could. 
This squad wants to break down barriers and be victorious. The leaders of Pathfinder's first Spanish speaking committee have expressed the desire to open the path not only for themselves but to their entire Spanish speaking team members. We want to provide an inclusive and enthusiastic place where they can express themselves in a way they never have before by proving how skilled they are. 
Currently, their first project of choice was to focus on developing training content for the company. Their vision is to maintain long-term colleagues capable of doing what they believe in to help them grow in their careers.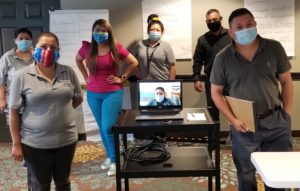 Business Development Committee 
Led by Danielle Schnieder (Vice President) and Rahul Bahl (Founder & Managing Director), the Business Development team is small but mighty. This group is responsible for seeking out new business opportunities that will help reach the Pathfinder Development goals.
The Biz Dev group is in charge of fostering relations that contribute to the big picture. This team creates collateral that can be shared among potential investors and partners. Since we are the experts when it comes to all things hospitality, it is this committee's job to ensure that we put our best foot forward to ensure both business parties benefit from the relationship. Our portfolio of business ranges and we have the capabilities to work with numerous industries. 
This group is also in charge of tracking results and presenting them as accurately as possible. We believe in transparency, and this committee meets weekly to crunch the data that helps form future goals and strategies.
PARADe Committee
Led by Shawnice Walker (General Manager) and Brian Monte (Director, People & Development), our PARADe Committee (Pathfinder Associate Recruiting and Development) is dedicated to the future leaders of the company. This is the only committee you must be nominated for by the current leaders and we ask a lot of these members. We challenge this group of individuals to think big picture and put themselves in positions where they are in charge of team building and inspiration. At Pathfinder, we also have 6 specialty areas that most of our employees fall into and the PARADe members are all in charge of leading one specialty area.
With weekly and monthly check-ins, PARADe team members are held accountable for making sure that they stay on track to meet their full potential. These individuals are required to attend leadership training and embody the future of the company.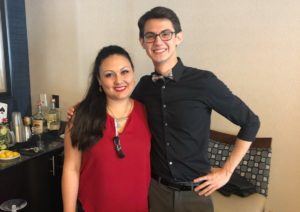 —
So, no matter what hotel you work in or what your job is, there is always a place for you on one of our many committees. We also envision these committees will be expanding and evolving as we grow over time. We also welcome ideas for new committees!
Want to learn more? Follow us on LinkedIn, Facebook, and Instagram!