"In this ever-changing environment, IHG is determined to recognize its top hotels for their efforts to make guests' safety a priority in 2020.  Based on the current situation the awards recognition has been modified.  Our Traditional awards: Torchbearer, Quality Excellence, Newcomer, IHG Rewards Club, Renovation, and New Development Design will be paused for 2020 recognition.  
 We are pleased to present "The Spirit of True Hospitality" award to hotels with scores of 90 and above in Guest Love, Room Cleanliness, and Covid Health & Safety."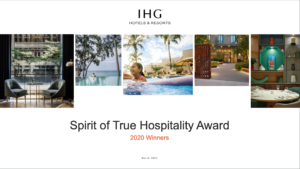 We are honored and thrilled to share that our Staybridge Suites – Humble is a recipient of the IHG Hotels & Resorts 2020 Spirit of Ture Hospitality award. This award means something extra special to us because when the world faced one of its most challenging years with the global pandemic, we saw an opportunity to figure out ways to make the guests that came through our doors feel safe without feeling the darkness of the world around.
While a lot of other hotels shied away from doing certain activities, we ramped our food and activities calendar up and found ways to make sure the guests could enjoy our spaces and amenities safely. We used the backyard to our advantage and grilled up great treats for our in-house groups, we set up games and different activities that they could participate in outdoors where they could safely space out and enjoy themselves.
Our team also found a way to safely serve our delicious breakfast and provide weeknight socials. We also put an emphasis on fun National Days to get creative on how we can make our guests feel special. For example, on National Spaghetti Day, our team prepared spaghetti and meatballs and safely packed individual meal trays for each of our guests! With an emphasis on Platinum Service, we felt it was crucial to provide the guests with everything they hoped for when booking with us and it truly reflects in our scores and the fact we were named a winner of this prestigious award.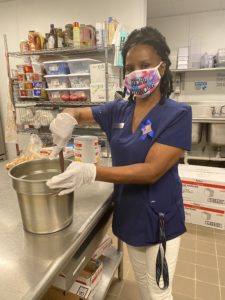 Our commitment to our internal and external guests is stronger than ever and we look forward to providing extraordinary service and experiences to our guests for the years to come!
Follow our Staybridge Suites – Humble on Facebook & Instagram!
See the full list of winners here: