If you are an investor looking to buy or build a hotel, you may find yourself asking the question, "Should I hire a 3rd party management company to run the place?" Hiring a hotel management company can be daunting, and vetting them can be even more stressful. We at Pathfinder Hospitality find that hiring a 3rd party hotel management company for your asset is crucial for the hotel's long-term success. While Pathfinder Hospitality has a proven track record when it comes to building, owning, and managing successful hotels throughout the state of Texas, we are looking to expand our portfolio beyond to help you take your hotel revenue to new levels. Whether you're a hands-on investor or prefer to take a hands-off approach, our management services are always tailored to fit our client needs.
What does a quality hotel management company provide? The answer to that will completely vary from company to company, and it all depends on your specific needs. Some management companies only provide front-of-the-house staff while others may only provide operational support. Other responsibilities of a management company might be full department coverage, recruiting & training, payroll & accounting, direct sales, revenue management, marketing, P&Ls, operations, and so on. In short, your hotel management company would be trusted to operate your business. We think HotelTechSupport said it best in October 2020, "Running a hotel is no easy task, and to do it well, you need a diverse variety of skills and resources. To maximize performance, profitability, and the owner's preferences, many hotels use various entities to manage different operational aspects."
As an investor, you might be tempted to try and manage a hotel on your own in an attempt to save money. In that same HotelTechSupport article, they go on to say, "While owners pay hotel management companies for their services, using hotel management companies can save money in the long term. Hotel management companies are experts at hotel operations so they can often run daily operations more efficiently than private owner/managers – especially if the owner has little hotel industry experience." If your asset is running at top efficiency, your RevPar (Revenue per Available Room) and your ADR (Average Daily Rate) are sure to be competitive market leaders.
So, why should you consider Pathfinder Hospitality as your next 3rd party hotel management company? For starters, we are incredibly proud to say that during the COVID-19 global pandemic, we were able to keep our doors open to serve those who were still traveling throughout Texas. Instead of fearing the unknown, we took that time to utilize the PPP loans to reinvest in the company's future and embrace an entirely new direction. The company was able to pursue growth internally and was able to outperform many hotels in the state and on a national level. At the close of 2020, 4 out of 6 of our hotels ranked in the top 5% out of 6,104 Texas hotels in RevPar. This was accomplished by our stellar scores, competitive revenue management strategies, and our outstanding teams that are committed to providing Platinum Service for our guests.
How much positive impact could Pathfinder have on the bottom line for your property? Our unique approach has allowed us to attain Revpar excellence by remaining resolute in focusing on great guest service instead of dropping rates and hoping to put heads in beds. Based on our 2020 performance, would you agree that a 10 point increase in Revpar Index for your property under our direction was reasonable?   Wouldn't you be expecting this level of increase if not more by hiring a great General Manager instead of a mediocre one?    If this sounds rational so far, consider that a 10 point Revpar Index improvement achieved primarily through ADR growth drives ~$2 million to the property valuation of a 110 room select service achieving a $90 Revpar not including annual cash flow increases.  As an industry, we tend not to think about how much impact on project IRR our management company selection makes but isn't it intuitive that entrusting your property with a company passionate about and skilled in achieving excellence in Revpar makes great business sense and that the right business decision tends to inch us closer to achieving our full potential.
Pathfinder Hospitality has over 30 years of combined experience and our management services are all-inclusive of operational/accounting fees, revenue management, direct sales, marketing, and talent development (recruiting, training, and terminating employees). Currently, we have a dedicated in-house revenue manager, direct sales team, and in-house marketing manager, and these teams are aligned and are committed to the success of every hotel in our portfolio. Our efforts include a deployment team of some of our best talent and that team is ready to hit the ground running. What does that mean? When you hire us, you're never surprised with invoices or bills that you didn't sign up for.
If that wasn't enough, we feel very strongly about partnering with hotel owners and investors that value service and embrace a company that has built a strong culture. One of the things that make our services unique is that we combat the average hospitality turnover rate. Our off-property team has a combined average of 6 years with the company. That is almost unheard of in an industry where it can often be challenging to not only obtain talent but retain it.  We ensure that the FISH! Philosphy is front and center when it comes to our teams across the portfolio (both on and off property). Pathfinder Hospitality is also passionate about providing our team members an opportunity to participate and engage in our many committees. What makes this approach so successful is that if you hire us to manage your hotel, you will not just be supported by the staff that is physically present, but you have the creativity and knowledge of our other teams contributing to the success of your hotel.
The visual you see below gives you a top-level outline of what we like to call "The Pathfinder Difference," and we would be honored to be considered as your next 3rd party hotel management company. We value our partnerships to the highest standard and we believe that treating our internal and external guests with Platinum Service is the key to any hotel success. That principle of Platinum Service is also applied to every partnership and we can't wait to partner with you.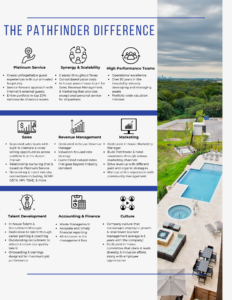 Contact us today if you'd like to talk about how we can manage your hotel to its fullest potential!
_______
About us: Pathfinder Hospitality develops hotels and also manages hotels for third-party investors by leveraging its talented workforce, relationships with major hotel brands, and buying power with major hospitality-focused vendors.
"Above and Beyond" captures the sheer essence of what Pathfinder Hospitality is all about. It is reflected in the hotels we develop and manage, in the memorable experiences we create for our guests through our commitment to Platinum Service, and in the extent of investment and support we provide to our properties to continue to stand out from our competitors.
Our mission: To provide best in class hospitality by delivering memorable experiences, enriching the lives of others, investing in our teams, and creating high-value growth for all stakeholders.
Our vision: To expand the reach of our unrivaled hospitality.
Follow us on Social Media: 
Facebook: https://www.facebook.com/PathfinderHospitality
Instagram: https://www.instagram.com/PathfinderHospitality
LinkedIn: https://www.linkedin.com/company/PathfinderHospitality