Following the toughest year on record for our industry, Pathfinder Development positioned itself for success by focusing on providing value and Platinum Service, paving the way for an incredible first quarter of 2021. We are thrilled to report that we had 4 out of our 6 hotels rank in the top 8% out of 6,143 Texas hotels in REVPAR. We couldn't have achieved this without the outstanding staff, both on-property and behind the scenes providing unmatched service to our guests and associates.
To achieve these incredible results, we shifted our focus to add the utmost value to our guests. We are committed to creating unforgettable experiences for our guests and clients and this shift in mindset has inspired our teams to think outside of the box to make our guests' day. We can't wait to share more as we continue down the road to recovery.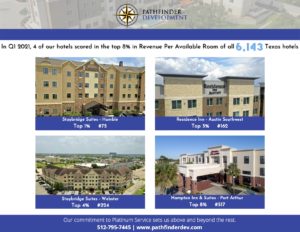 Read more about our quarterly performances: Quarterly Portfolio Rank – Texas Top 500
Source: Hotel Brand Report – Source Strategies
_______
Pathfinder Development was founded in 2005 and currently manages 6 hotels in Texas with a 7th in the works. These hotels include Residence Inn by Marriott in Southwest Austin, Holiday Inn Express & Suites in Austin Arboretum, Staybridge Suites in Humble/Houston, Staybridge Suites in NASA/Clearlake, Holiday Inn Express & Suites in Houston, and Hampton Inn in Port Arthur. Our 7th incoming hotel will be the Aloft in Southwest Austin.
Our mission: To provide best in class hospitality by delivering memorable experiences, enriching the lives of others, investing in our teams, and creating high-value growth for all stakeholders.
Our vision: To expand the reach of our unrivaled hospitality.
Follow us on Social Media: 
Facebook: https://www.facebook.com/PathfinderDev
Instagram: https://www.instagram.com/pathfinderdev